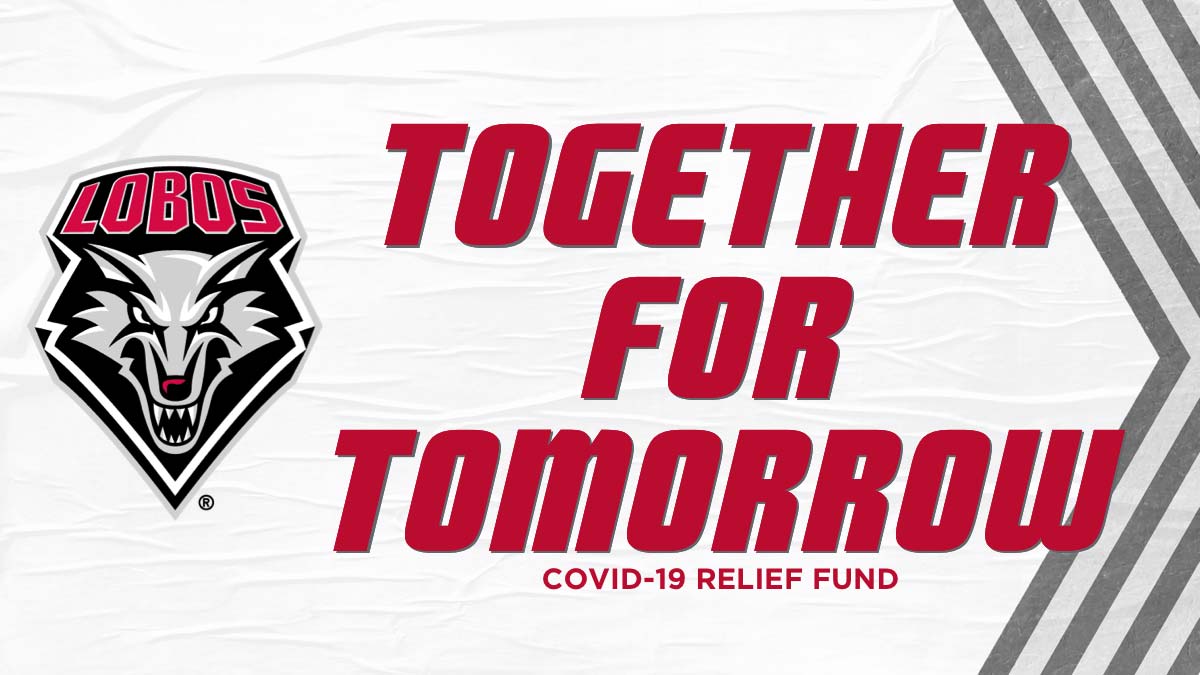 The University of New Mexico Athletic Department and the UNM Lobo Club announce the launch of the 'Together for Tomorrow' campaign beginning today. It was recently announced that the Mountain West (MW) has indefinitely postponed 2020 fall season sports due to the ongoing challenges of the COVID-19 pandemic as it relates to athletic competition.
The impact that COVID-19 has had across our community, the University, and out athletic department is unparalleled and the future holds much uncertainty. Despite these challenges that we all face together, we are committed to our student-athletes in their pursuit of excellence athletically, academically, and as leaders in our community.
"We are at a crucial time for our department," said Director of Athletic Eddie Nuñez. "Your gift will help us set the foundation for the future of UNM Athletics at this important moment."
Now, more than ever, we need your help as dedicated and loyal Lobos to stand together to give our student-athletes, our athletic department, and The University of New Mexico a bright and promising tomorrow. We cannot do this without your help.
While the full financial impact of the pandemic isn't known yet; your contribution will continue to help us provide a first-class experience for Lobo Athletics. We are asking you to do this above and beyond your current giving to Lobo Athletics.
By giving to Together for Tomorrow, through a gift to the Lobo Excellence Fund, you will make an immediate and long-term impact on the experiences of our Lobo student-athletes. By supporting this initiative, you are helping to ensure these student-athletes have comprehensive support and stability throughout their years as a Lobo and after graduation.
Details about Together for Tomorrow Campaign:
Contributions will go towards academic services, student-athlete development, mental health/wellness, athletic training, nutrition, etc. for Lobo student-athletes.
Contributions to the campaign will not count toward 2020 or future annual giving memberships/seating contributions.
Contributions to Together for Tomorrow will receive five (5) Lobo Club priority points per $100 donated … that's 5x the normal reward!
Contributions to the campaign are 100% tax deductible.
Additional Questions About the Together for Tomorrow Campaign:
For more information or if you have questions or concerns regarding the campaign, please contact the UNM Lobo Club at 505-925-2582 or loboclub@unm.edu.
MORE INFORMATION
GIVE TODAY