A Message From the AD
Dear Lobo Club Members,
On behalf of all of our student-athletes, I want to say "Thank You!"
Thank you for giving the gift of education to a Lobo Student-Athlete.
Thank you for choosing to make a generational difference in the live of our Lobos, who will use the college degree from the University of New Mexico for the rest of their lives. Their spouses, children, and grandchildren will benefit from your gift.
Thank you for your generosity in providing a tangible asset for our student-athletes in the form of a college education. A college degree dramatically improves a person's chances of success in life.
You are responsible for providing amazing opportunities for our student-athletes. Certainly they are benefitting from your Lobo Club donations today, but your gift will continue to be a benefit to them for the rest of their lives.
Thank you for paying it forward to the next generation!
Thank you for being a Lobo Club Member!
Thank you for making a lifetime of difference!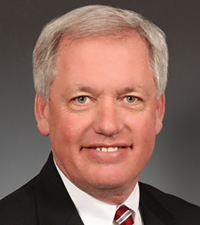 GO LOBOS!

Paul Krebs
Vice President for Athletics
University of New Mexico